Accomodation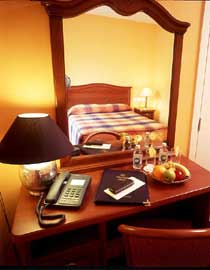 With Garvey's impressive stand overlooking Galway's focal point - Eyre Square; this establishment has become a landmark in Galway City.
Due to its location in the heart of Galway City, Garvey's is in close proximity to all amenities and local attractions. Therefore, whatever your interests, you will almost always find what you are looking for at our doorstep!
Garvey's provides all the comforts of a highly graded Hotel, while at the same time ensuring all our guests feel at home.
This effective combination leaves every guest with feeling of both familiarity and guaranteed satisfaction. We here at Garvey's extend a warm Irish Welcome to Business clients, Irish and International visitors alike through providing a quality service.
Our priority is you and we will take great pride in making your stay as comfortable as possible.